Tesco Click + Collect
Shop comfortably online with the Click + Collect service and pick your purchase up on your way home.
Shop at your nearest pick-up point even today and we will load your order into your trunk. You even don't have to get out of your car.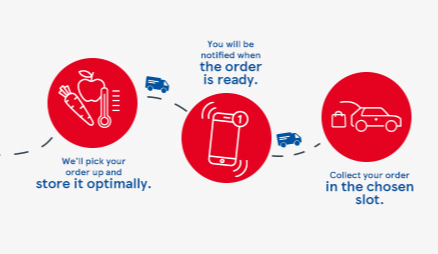 Where the service is available
You can choose the time of your purchase to pick up on the slot booking page according to when it suits you best.
What is Click+Collect?
Click+Collect offers all the benefits of shopping online via Tesco Online Shopping with the additional option of picking your shopping up from a Tesco store at a time that works best for you.
How can I use Click+Collect?
1. Log in to your account and click on "Choose a Service". Choose the Click+Collect service and choose the store where you would like to pick up your shopping. 2. Choose the time slot for your shopping collection from the store's Click+Collect point. You can find the available time slots on the website when creating an order. 3. Create your order. 4. Pick up your shopping at the time you have chosen.
Where can I collect my shopping?
The exact location of the Click+Collect point varies by store; you can find it here https://tesco.hu/clickandcollect/en/?filters=cnc. You will see clear signage as you enter the store car park. You can see the address of your chosen store in your email confirmation.
What proof of ID do I need to bring?
Please bring your order number and your ID. If you are paying at the Click+Collect point, you will need to bring your payment card and the order number. Unfortunately, we will be unable to hand over the shopping without these documents or information.
Can someone else collect my shopping?
Yes, if the person has a copy of the confirmation email with the order number. Unfortunately, without this, we will not be able to hand over the shopping.