What's new with us?
Every day we aim to constantly improve our services for you and bring you innovative and convenient online ordering from the comfort of your home. That's why we work hard to deliver you the top quality food as soon as possible and always fresh as if you bought it directly from us in the store. It is extremely important that we move forward every day and optimize our services to make your shopping experience easy and more enjoyable. When it comes to quality, we always keep our word.
Don't miss any news and try your online services now!
Go bagless with your next online order
Ordering online is easy and comfortable. Let's make it even better and get rid of unnecessary bags. When you order online at Tesco, join our online customers and choose the "Do not pack in shopping bags" option - we will deliver your order to your doorstep in crates and help you unload. Do not worry, baked goods, sanitary products and chemicals will still be delivered in bags. By choosing not to have your shopping packed, you can help us reduce the waste created; plus, you can save 250 Ft for paper bag fee! Tip for you - prepare your own bags for a more convenient delivery or pick-up of your order.
Szekszárd, Baja, Paks, we have arrived!
If you live in Szekszárd, Baja, Paks or around these cities, we have good news: you can now order with Tesco from Home service that makes your shopping easier. Choose from our wide range and many online promotions! We always deliver your ordered products with the utmost care all the way to your door, so you don't have to carry heavy bags. Or you can pick up your shopping at one of our Click&Collect points of your choice, even on the way home. Be one of the first to order online from Tesco from Home from Szekszárd, Baja, Paks and their surroundings! It's easier than you think.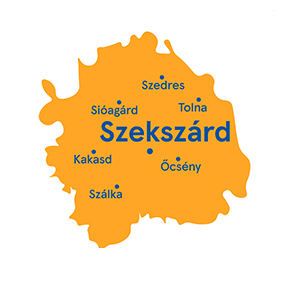 Ordering online has never been this comfortable and easy! Now you are just a few clicks away to get your order. Save time, order online with Tesco Otthonról now and get your shopping delivered to you even today. Available in almost all delivery areas (except Békéscsaba, Szolnok and Zalaegerszeg).
Enjoy the convenience of Tesco Online services
How do product substitutes work?
As part of the ordering process, we have added a new option, which is the option to choose if you want a substitute product to be delivered to you in the case of unavailability of the ordered product. Valid only for Tesco From Home if chosen.
Ordering online with our new app
Discover Tesco Online app and order anywhere, anytime. Ordering online has never been this easy, fast, and secure! Want to know what's new? Download or update the app now:
What can you look forward to in our new Tesco Online app?
Online ordering can be even easier